B.B.P.R.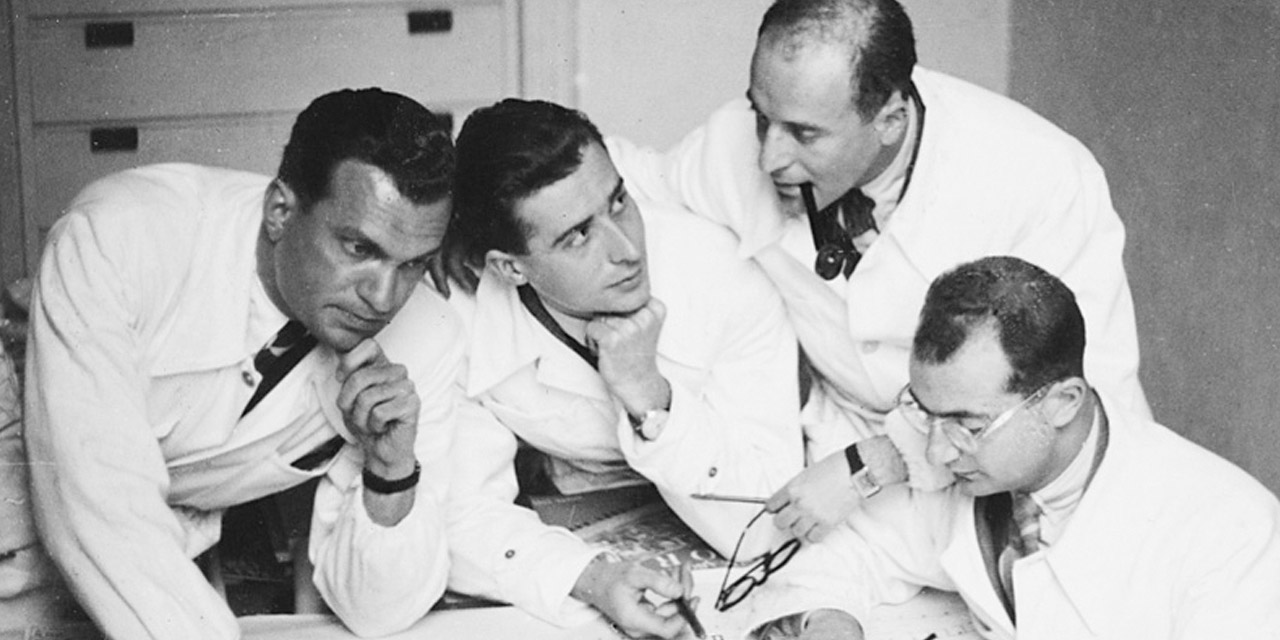 The acronym in the name of the famous Italian design studio BBPR is nothing but the first letters of the names of four graduates of Politecnico di Milano, whose creative union was formed in 1932. The studio of Gianluigi Banfi (1910-1945), Ludovico Barbiano di Belgiojoso (1909-2004), Enrico Peressutti (1908-1969) and Ernesto Nathan Rogers (1909-1969) was one of the first and most significant examples of a creative partnership based on teamwork rather than individuals.
The architects believed that any design created by four people was always better than if each person created individually, and did not reveal the individual paternity of ideas, proclaiming them the overall result of the studio. Practicing such an unusual approach to design, in 1935 the studio was invited to join the International Congress of Modern Architecture (CIAM) after only 3 years in business.
In the 1950s, BBPR led the preparation of the IX Triennale di Milano and developed an exhibition called La Forma dellUtile to promote Italian industrial design and international style. The Torre Velasca Tower was the main symbol of the usefulness plus beauty principle the studio upheld. It took about 10 years to design and build and was finished in 1958. This building can be called the peak of the BBPR architectural activity. Later on, the success of the projects carried out and the reputation of the studio helped to form creative collaborations with such prominent figures of the time as Alexander Calder, Lucio Fontana and Max Bill.
The BBPR studio also went down in history as successful furniture designers. Perhaps the most famous pieces of objects designed by BBPR were the Elettra, Giuletta and Neptuna chairs for Arflex, and the lighting fixtures designed for Artemide and Arteluce. All items created by BBPR for the Italian factories or in collaboration with talented designers who were involved from time to time studio are distinguished by their functionality, purity and sophisticated aesthetics. A special feature of the pieces was the unconventional combination of rough industrial materials with noble textiles, natural leather and wood. Such contrasting weaves in BBPR items caused a sensation when they first appeared, and remain highly relevant in modern interiors to this day.