Campana Brothers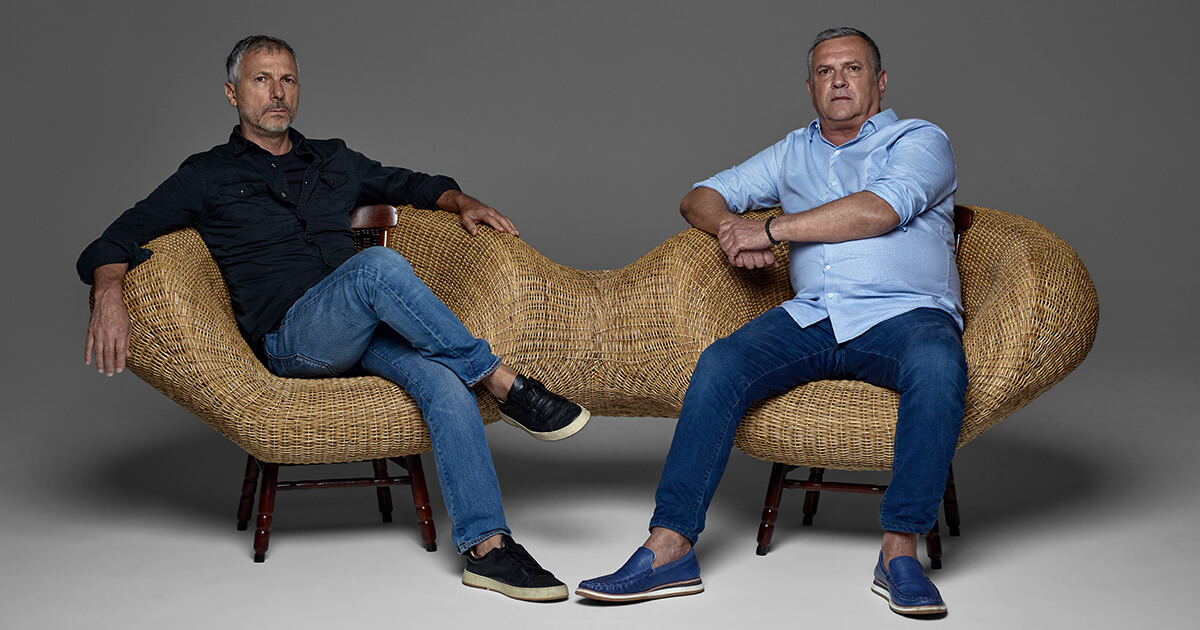 The Campana brothers (Fernando & Humberto Campana) are famed Brazilian furniture designers from Sao Paulo, who have recently gained respect in the design world for their evocative and humorous furniture, often made using unexpected materials.
In 1984 they co-founded Estudio Campana, which became recognised for its furniture design and intriguing pieces-such as the Vermelha (1993) and Favela (1998) chairs. In 1998, Estudio Campana debuted their first international show with the German lighting designer Ingo Maurer Project 66, which was curated by Paola Antonelli at the Museum of Modern Art in New York. In later years, the studio expanded its repertoire to the areas of architecture, landscaping, scenography, fashion, among others.
Most celebrated for their design of the Vermelha chair-an iconic piece handmade from a huge length of rope, wrapped and woven to create the chair's nest-like structure. "The Vermelha chair is an homage to chaos," says Humberto. "It's a portrait of Brazil, a melting pot of culture and races...and I try to manifest this idea into a kind of chair that is chaotic in its very construction." The chair was their first piece of work exhibited by Brazilians at the Museum of Modern Art, New York.
In fashion, Estudio Campana signed a collection for Brazilian jewelers H. Stern (2001). For the last fifteen years they have collaborated with Melissa to create footwear and accessories.
Their artistic partnerships include the creation of the costumes for "Virtually There" ballet hosted by Performa Visionaries at Mana Contemporary in New Jersey (2006), sets and costumes for the Marseille National Ballet 'Metamorphose' show (2007) and the scenography of the 'Peter and the Wolf' musical, presented at the Guggenheim Museum in New York (2008).
Estudio Campana has been the recipient of many important awards, including the Order of the Arts and Letters, Paris (2013), the Design Miami Designer of the Year (2008), and the George Nelson Design Interior Awards. Their studio continues to produce and develop universal and practical furniture made from ordinary, inexpensive, manageable everyday materials that have been discarded, such as rope, fabric, wood, cardboard, plastic tubes, and aluminium wire. The Campana furnishings are intuitive and spontaneous, and they fully exploit the freedom of expression and experimentation provided today by technology. This is why their objects are able to speak in so many different idioms.
"Frustration is often the mother of invention" is their design inspiration.