Erberto Carboni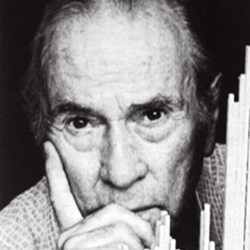 Erberto Carboni was an architect, designer and advertising artist, the creator of the first television logos.
He was born in Parma on November 22, 1899.
In 1921, shortly after graduating from the Fine Arts Institute of Paolo Toschi in Parma, he began as a cartoonist in a humorous magazine. Later he became head of the national design department and began his career as an illustrator working in various journals such as Lidel, Novella, Dramma, Emporium, Le grandi firme, and others.
In 1932, Carboni moved to Milan, where he worked as a consultant in the studio Antonio Budgeri.
From the thirties to the fifties he participated in a variety of Italian and international exhibitions of industrial and rural design and advertising.
In 1951, he participated in an exhibition dedicated to the 50th anniversary of the death of Giuseppe Verdi.
Developed the design of the pavilion Montecatini in 1952 and several RAI-TV stands since 1952.
In 1961 he oversaw the construction of the Italy-61 pavilion at the World Exhibition in Turin.
Between the second half of the thirties and sixties, Carboni led the advertising campaigns of several large companies, often becoming their promoter in the domestic and international market. He worked, in particular, with Olivetti in 1935, with Shell in 1937, with Motta in 1939, with Barilla (from 1952 to 1960), with Bertolli since 1952 and Pavesi ( from 1958 to 1970).
With RAI in 1948, he began a long cooperation, which lasted until the last years of his life.
In the last years of his life, Carboni is almost not engaged in design, devoting himself to sculpture and paintings, showing them in several art galleries and the Venice Biennale in 1972 (where he exhibited Totem 36, steel stele, six meters high).
Carboni died in Milan on November 5, 1984.