Erberto Carboni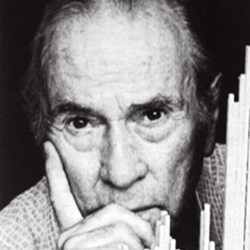 Erberto Carboni is an architect, designer and advertising artist, and creator of the first television logos. He was an extremely versatile and fruitful artist. His talent left a bright mark in the history of design. Contemporaries described him as an elegant, highly cultured, intelligent and well-mannered person.
Erberto was born in the city of Parma on November 22, 1899, where he graduated from the Academy of Arts with a degree in Architecture, immediately after which he began working as a cartoonist in a humorous magazine. Later on, he continued as an illustrator in the magazines Lidel, Novella, Dramma, Emporium, Le grandi firme and others.
In 1932 he moved to Milan, where he started a cooperation with the magazine "Lufficio Moderno" (Modern Office) edited by Guido Mazzali. In parallel with this, Carboni led the work on advertising campaigns of large organizations, which he represented on the domestic and international markets, such as Olivetti in 1935, Shell in 1937, Motta in 1939, Barilla (1952 - 1960), Bertolli starting from 1952 and Pavesi (1958 - 1970). His collaboration with Barilla, after several individual projects (1922 and 1938), developed into further collaboration from 1952 to 1960, as a result of which Erberto won the Golden Palm for the Barilla advertising campaign.
In addition to advertising graphics and book illustrations, he also worked as a stage designer at La Scala and Maggio Musicale Fiorentino.
As an architect, he designed numerous displays, shops, pavilions and salons for trade fairs and exhibitions.
• In 1935, for the Triennale in Milan, he transformed the facade of the Palazzo dellArte.
• In 1951 he participated in an exhibition dedicated to the 50th anniversary of the death of Giuseppe Verdi.
• In 1952, he designed the Montecatini Pavilion.
• In 1961 he curated the construction of the Italy-61 pavilion at the World Exhibition in Turin.
In 1954, he designed the "Delfino" chair, which is a vivid example of the use of natural forms in design, characteristic of the 1950s. The armrests of the chair resemble fins, and the base looks like a flexible body of a dolphin, in honor of which the chair got its name.
In the last years of his life, Carboni was almost no longer engaged in design, devoting himself to sculpture and paintings, showing them in several art galleries and the Venice Biennale in 1972 (where he exhibited Totem 36, a steel stella six meters high).
Erberto Carboni died in Milan in 1984 at the age of 85, after an incredibly vibrant career.