Ettore Sottsass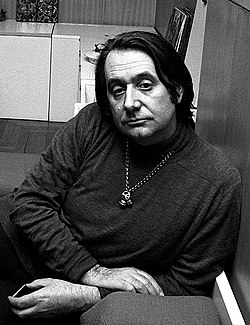 Ettore Sottsass (14 September 1917 - 31 December 2007) was an Italian architect and designer of the 20th century. His profile of work included furniture, jewellery, glass, lighting, home objects and office machine design, as well as many buildings and interior and industrial design.
He set up his own unique architectural and design studio in Milan, where he began to create work in a variety of different materials.
Sottsass became famous in 1958 when he designed the first Italian computer: Elea 9003 for Olivetti, which was about the size of a room. To make it more accessible, Sottsass has arranged the elements using color, for which he received the design Oscar – the Compasso D'Oro award. The popularity of his red-orange typewriter Valentine of the same brand can be compared today to the Ipod or Ipad. Valentine has become a real legend with one of the copies being exhibited in the New York Museum of Modern Art.
His obsession with bright colors, shades and non-standard combinations appeared after his first trip to India in 1961. He was inspired by the multicolored traditional local costumes, spices and the boldness with which even the poorest Hindus adorned themselves. He was the first designer who started to decorate furniture with colored laminate and design neon fiberglass beds and striped Superbox cubicles.
In 1980, Ettore opened his studio Sottsass Associati and founded the Memphis Design Group in 1981, which made him famous worldwide. The radical style pioneered by the Ettore Sottsass group has become very influential in the world of design. They played with textures, colors, and shapes to combine freedom of creative expression and design realism. The mix of various themes and indirect citations of past styles used by the Memphis designers contributed to the creation of the post-modern design. The most famous modernist postulate "Forms follow functions" was successfully refuted by Ettore Sottsass as his eccentric sculptures turned out to be no less in demand than conventional modernist objects, the form of the objects comes above all.
The Memphis Group embodied themes that Sottsass experimented with since the mid 1960s, when he created his early objects: bright colors, provincial kitsch and cheap materials. But this time, they captured the attention of not only design connoisseurs, but also the media, which brought their ideas to contribute to the future of international design. For young designers of that epoque, it was an intellectual lightning rod, which freed them from the dry rationalism taught in colleges and enabled them to adopt a more flexible conceptual approach to design. The works of the Memphis Group was exhibited around the world until Sottsass left the community in the early 1985, leading to the group disruption in 1988. It was then that Ettore focused on the development of Sottsass Associati, which still works and collaborates with Apple, NTT, Philips and Siemens.