Gabriella Crespi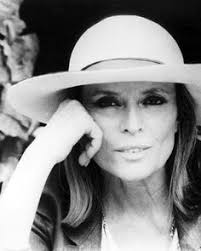 Gabriella Crespi was born in Milan in 1922 in a wealthy and noble family. Her father was an engineer, and her mother was engaged in jewelry design. Crespi spent her childhood in Tuscany, and then on the Hebrides of Scotland.
In the 1940s, she returned to Milan to study art at the Brera Academy of Fine Arts, and then entered the Faculty of Architecture of the Milan Polytechnic. In 1948, the designer married Giuseppe Maria Crespi, the heir to one of Italy's richest aristocratic families, the founders of the textile empire and the owners of the Corriere della Sera newspaper. Then Gabriella began to create a series of small items as gifts for her wealthy friends. Soon the hobby turned into an independent debut collection Small Lune Collection, which was noticed by Dior House, having bought it for a Paris boutique.
It is noteworthy that Crespi never had a separate studio, she drew sketches at home, and then took them to local craft workshops. She even opened a showroom in her own apartment on Via Montenapoleone.
In 1963, after separating with her husband, Gabriella moved with her two children to Rome, settling in the luxurious 15th-century palazzo Cenci, which immediately became a center of attraction for the local aristocracy. Among the regulars were Audrey Hepburn and Hubert de Givenchy and many others. Here, the designer presented her first collection of Plurimi furniture. It consisted of 15 items, including modular coffee table designs with ultra-smooth moving surfaces. Gabriella used expensive materials and finishes in her work: red African marble, Lebanese cedar, brass, skillfully combining them with leucite, wood bark, rattan and stalks of bamboo. Crespi had a real passion for the East. His mysticism attracted her imagination, and in 1973 she began working on the new Rising Sun collection, made entirely of bamboo. From this material, she created lampshades for table lamps, tables, and even a baby cradle.
The peak of Crespis creative career was the period of the 1970-1980s. Among her admirers: Princess Marina of Savoy, Queen of Belgium Paola, Persian Shah Reza Pahlavi and King of Saudi Arabia Faisal, for whom Crespi designed the interior design of the palace in Riyadh.