George Nelson (Mulhauser)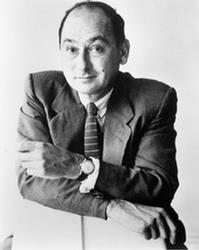 George Nelson (Mulhauser) (1908-1986) was an American industrial designer of American Modernism.
In 1928, he graduated with a degree in architecture at Yale. And he received a degree in Fine Arts in 1931.
The next year, while preparing for the Paris Prize competition, he won the Rome Prize. The award for the Rome Prize was a year studying architecture in Rome.
Based in Rome, Nelson traveled through Europe, and worked as an interviewer for Pencil Points, a magazine about design. Through his articles in Pencil Points met Walter Gropius, Mies van der Rohe, Le Corbusier, and Gio Ponti for the mutual future professional collaborations in design and international prominence.