George Nelson (Mulhauser)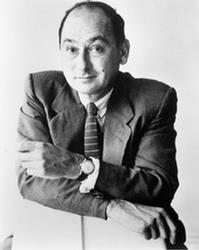 George Nelson(1908-1986) was a famous American industrial designer.
While still being a student, Nelson rose to fame in the international architectural community as a talented journalist from Pencil Points. While working for the magazine, Nelson interviewed such notables as Walter Gropius, Mies Van Der Roe, Le Corbusier and Gio Ponti, and was invited to join the architectural firm Adams and Prentice the year before he graduated from Yale University.
A year after graduation, Nelson won the prestigious Rome Prize and traveled to Italy to study architecture for two years. These years later became extremely significant for Nelsons later creative development, because his style was absolutely atypical for the American school of the time, and was more in line with the Italian direction of design.
In 1946, Nelson founded his own architectural studio, the calling card of which was industrial design. A year later, Nelson began working with the famous company Herman Miller. In more than 25 years with the company, Nelson recruited leading architects such as Ray and Charles Eames, Isamu Noguchi and others. Nelsons success were noticed not only by his colleagues in the industry, but also by the U.S. Government, and he became the chief architect of the American National Exposition, which was held in Moscow in 1959.
In the 1970s, Nelsons architectural studio came up with the Action Office concept and created the signature Nelson Workspace furniture system. Nelsons clients included Ford Corporation, IBM, General Electric and Olivetti. Nelsons studio involved designers such as Ettore Sottsass and Michael Graves, who assisted Nelson in creating new furniture systems and other design pieces. Each of Nelsons pieces counts in versatility, convenience and colour brightness, for which design collectors value highly to this day. Nelsons design objects are in the collections of MoMA, Vitra, the British Museum, the Metropolitan and other major museums.