Gio Ponti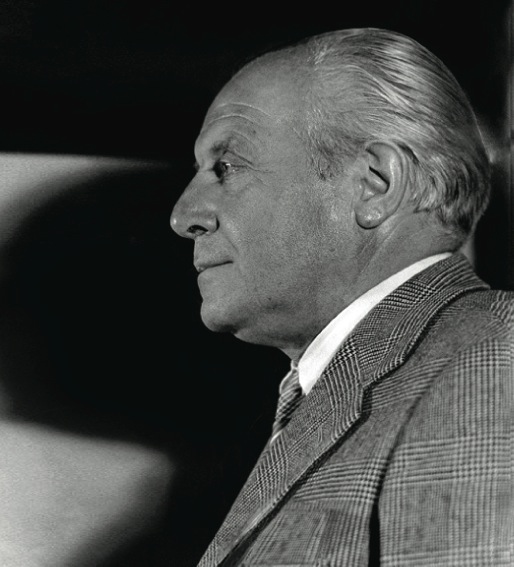 Gio Ponti (1891-1979) was a major figure of Italian modernism whose creative contributions largely established Italy as a world center of design. He was not only an architect and designer, but also a teacher, poet, painter, publicist, and finally a publisher. Ponti is the founder and editor-in-chief of the famous magazine Domus, one of the initiators of the Compasso dOro award, an honorary doctor of architecture at the Royal College of Arts, as well as the author of architectural projects all over the world. During his lifetime, he designed over 120 buildings, including the Pirelli Tower in Milan (1956), Villa Planchard in Venezuela (1950), the Hotel Parco dei Principi in Rome (1964), and the Montedoria building in Milan (1970).
After receiving a degree in architecture from the Politecnico di Milano in 1921, Ponti began his career in the studio of Mino Fiocchi and Emilio Lancia, and soon became head of the Richard Ginori ceramic factory as art director. In 1927 Joe Ponti opened an architectural and design office in partnership with Emilio Lancia, which almost immediately began working on glass for the Venini factory, Christofle silver and fabric designs for Vittorio Ferrari. The most important event of 1920s for Ponti was the foundation of one of the first and biggest architectural magazines Domus, for which Ponti personally wrote at least one article in each of its 560 issues.
The next fruitful decade began with cooperation with the Italian factory Fontana Arte, where Ponti was invited as an art-director of one of the departments. In 1933 Ponti ended his collaboration with Lancia and founded Ponti-Fornaroli-Soncini, whose clients included Fiat, the University of Padua and many others. In 1936, Ponti himself became a professor at the Polytechnic University of Milan, where he graduated more than two generations of gifted Italian architects.
The 1940s and 1950s were the peak of architect Pontis career. Postwar Italy was in need of a global redevelopment. Gio Ponti received large orders for the construction of commercial and private buildings, created his most iconic pieces of furniture, including the legendary Superleggera chairs (1957), and worked on projects for Pacific ocean liners. The liners Conte Grande and Conte Biancamano launched in 1947 were his debut projects in this sphere. Their decoration reflected Pontis vision, combining simplicity in his design and excellent quality, later also presented on the liners Giulio Cesare, Andrea Doria, Augustus and Cristoforo Colombo in the 1950s. During these years, Ponti held a solo exhibition of his works at the Institute of Modern Art in Boston (1954) and also headed the magazine Stile. By publishing works by Carlo Molino, Piero Fornasetti, Lucio Fontana and other contemporaries, Italian design gained not only commercial power but also intellectual weight.
In 1967, Ponti returned to cooperation with the factory Fontana Arte becoming the creative director of the company. A year later, Gio Ponti received the gold medal for his contribution to world architecture from the Academie Royale dArchitecture in France. Skyscrapers, cathedrals, university buildings, art museums, object design and sets for the famous La Scala are just a small part of what Gio Ponti realized in his professional life. Ponti was a key figure of Italian design, whose design objects are on the wish-list of collectors worldwide and are considered national treasures. Pontis work is represented in the permanent collections of the MoMa, Vitra Design Museum, Musee des Arts decoratifs, Centre Pompidou, Victoria&Albert Museum and other renowned museums.