Pierre Jeanneret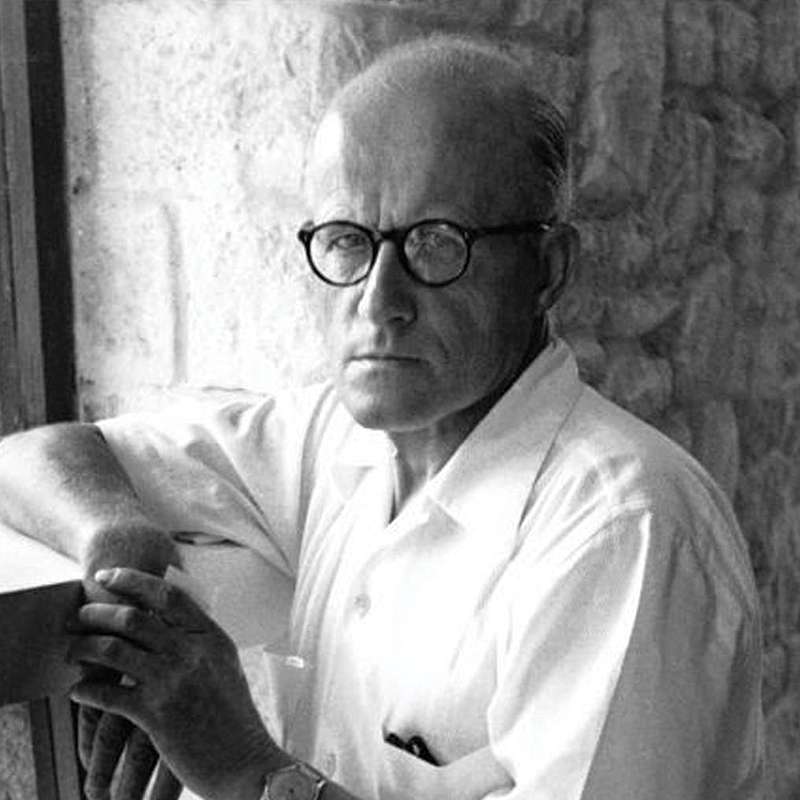 French and Swiss architect Pierre Jeanneret (1896-1967), went down in history as a hardworking companion of his cousin and mentor for life Charles-Edouard Jeanneret (Le Corbusier) and chief architect of the Indian city Chandigarh.
In recent years, Jeanneret came out of Le Corbusiers shadow: worldwide collectors highly appreciated and valued his simple yet elegant pieces of furniture, and decorators on both sides of the Atlantic started to use his teak and simple armchairs in their most expensive and exclusive projects.
Pierre Jeanneret grew up in the typical Jura landscape that influenced his early childhood and his Geneva Calvinism roots. He attended the School of Fine Arts (Ecole des Beaux-Arts, Geneva). As a young student, he was a brilliant painter, artist and architect. If his illustrious cousin Charles-Edouard Jeanneret, more known as Le Corbusier, was a visionary, then Pierre is rather an excellent team member.
In 1922, the Jeanneret cousins set up an architectural practice together. From 1927 to 1937 they worked together with Charlotte Perriand at the Le Corbusier-Pierre Jeanneret studio, rue de Sevres in Geneva, and signed all their projects until 1940 Edouard Jeanneret/Pierre Jeanneret. Before the WW2, they created numerous modernists buildings, including private mansions in Paris proximities such as the Villa Savoy, which later became a landmark in the history of modernist architecture. Because new villas needed new furniture, they started to design their own collections of armchairs, tables and racks with Charlotte Perriand. In 1929, at the Autumn Salon exhibition in Paris, the friendly French trio presented for the first time their collection, whose items occupy a particularly important role in the upcoming auctions.
Nevertheless, during World War II a dispute arose between the brothers when Jeanneret joined French Resistance, while Le Corbusier collaborated with the occupation authorities Vichy. They started working together again only in 1950 when Le Corbusier convinced Jeanneret to design the plan for the new city of Chandigarh in India, named after the Hindi Goddess Chandi. The Indian government has hired the legendary Swiss-French architect Le Corbusier to create the master plan of the city, including residential, commercial, governmental and industrial areas. In turn, Le Corbusier has insisted on hiring his cousin Pierre Jeanneret for urban furniture decoration and design. Thereby, Jeanneret designed furniture for the entire complex of Chandigarh using inexpensive locally sourced materials that would be resistant to local extreme temperatures, moisture and insect pests. Simple and functional, yet strong and sturdy structures of the chairs and armchairs were made by local craftsmen from teak, bamboo, iron rods, rope and cotton upholstery.
This project is undoubtably considered as the largest and most ambitious project of Pierre Jeanneret and Le Corbusier. The furniture that they have designed for the Indian city project in the 1950s are definitely defining a new period in the career of Pierre Jeanneret as a furniture designer. This project has deeply influenced his practice and made him stay in Chandigarh after the completion of the project, rarely returning to Europe.
However, over time, the local government began to get rid of the furniture, seeing no value for the city because it acquired numerous defects and went out of order. Jeannerets armchair and chairs, which are extremely valuable and rare today, were sold out at local auctions for just a few rupees. The majority of items were sold as scrap, and furniture whose material was damaged by moisture and beetles were merely burned. Perhaps, the furniture designed by Jeanneret would not have received its second life if in the 1990s the French gallerists Eric Touchal, Francois Laffanour, Philippe Jousse and Patrick Seguin would not have come to hunt for treasures at Indian sales. After being brought to Europe and being expensively renovated, Pierre Jeannerets Chandigarh furniture started to appear in famous European galleries and at leading auctions.
Over time, the cost and value of Chandigarh furniture started to rise, reaching tens of thousands of dollars and turning into one of the main desired objects of European collectible design.