Pietro Chiesa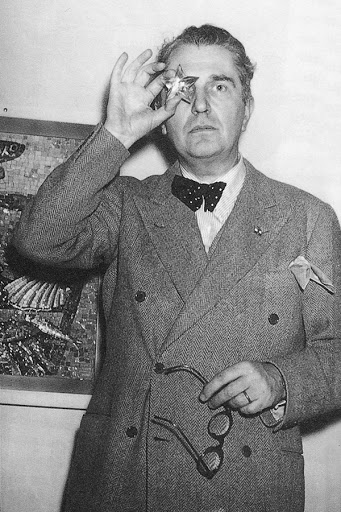 Pietro Chiesa (1892-1948) was a leading Italian Art Nouveau and Art Deco designer, best known for his artistic glass objects. He belonged to a Swiss family of Ticino artists. Pietro studied at the Accademia di Belle Arti di Brera and then trained in the studio of furniture designer Giovanni Battista Gianotti.
In 1921 he opened his own studio Bottega di Pietro Chiesa in Milan, soon presenting his work at the famous Paris exhibition. While running Bottega di Pietro Chiesa, he also carried out several major projects, including the Trieste Stock Exchange and the ocean liner Conte di Savoia. In 1927 Chiesa partnered with Michele Marelli, Joe Ponti, Emilio Lancia and Paolo Venini to found Il Labirinto. The architects worked together to create creative furniture in the style that later became known as Novecento.
In 1932, Gio Ponti invited Pietro Chiesa to join him as artistic directors at Luigi Fontana SA, one of Italys major stained glass makers. In 1933, Pietro Chiesa merged Bottega di Pietro Chiesa with Luigi Fontana SA, and the trio of architects created the legendary Fontana Arte, which specialised in furniture, lighting, and decorative glass objects.
It was during Chiesas role as artistic director of Fontana Arte that he created hundreds of icon design pieces. His most famous creations include the Fontana table, which was made from a solid ribbon of curved clear glass, the Cartoccio vase, and the Luminator floor lamp in lacquered brass. Pietro Chiesa remained the artistic director of Fontana Arte until his unexpected death in Paris in 1948. It was his artistic vision that profoundly influenced Max Ingrand, who became artistic director of Fontana Arte after Pietro Chiesa.